By STEVE KNIGHT/The Lufkin News
Tourists spent $131.1 million in Angelina County in 2014, adding almost $1.8 million in local tax receipts, according to data released from the Lufkin Convention and Visitors Bureau, citing a Dean Runyan Associates study.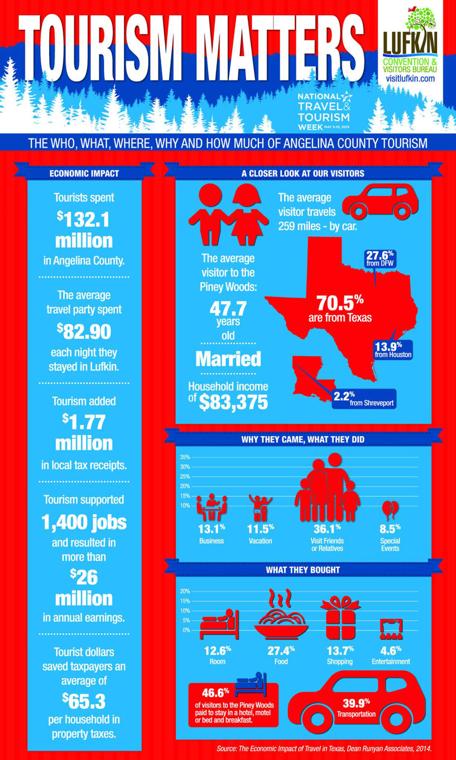 According to the data, the average travel party spent $82.90 each night they stayed in Lufkin. Tourist dollars saved taxpayers an average of $65.30 per household in property taxes, according to the study.
According to Tara Watson-Watkins, executive director of the Lufkin Convention and Visitors Bureau, the amount spent in Angelina County in 2014 represents an substantial increase compared to the $49 million spent in 1990.
"Travel and tourism has a big impact on our economy and our quality of life," Watson-Watkins said. "Businesses like hotels, restaurants, event venues and stores see direct benefits, and then there are ripple effects throughout the community. Studies show that annual visitor spending continues to increase, so this is an industry that is still growing."
In addition, tourism supported 1,400 jobs and resulted in more than $26 million in annual earnings.
Many of those visitors come for conventions and meetings. Lufkin hosted seven conventions last year, including the Texas County Agricultural Agents Association, Texas Local Fire Fighters' Pension Educational Conference, and the Texas Forestry Association. In 2014, conventions accounted for $291,000 spent in the community and 3,700 room nights.
"We are growing our convention industry," Watson-Watkins said. "This year we have already hosted the Conservation Fund's annual board meeting, with over 75 in attendance from all across the U.S., and are getting ready to host Texas Big Game in two weeks.
"The newly renovated convention center is playing a big role in convention bids, and the community works with us to make that part of the tourism industry grow. For several of the conventions we have been able to host, local members of a regional or statewide organization have worked with us to present a bid for their annual convention. For example, the Texas Local Fire Fighters' Retirement Act worked with our local TLFFRA chapter to help bid on and facilitate their conference here. We appreciate the opportunity to work with our community to build those relationships that help grow Lufkin tourism and business."
The data shows that the average visitor travels 259 miles to the county by car. The average visitor is 47.7 years old, married and has a household income of about $83,375.
About 70.5 percent of visitors come from other parts of Texas — 27.6 percent from the Dallas-Fort Worth area and 13.9 percent from the Houston area. About 2.2 percent of visitors come from the Shreveport area.
According to the data, 13.1 percent of visitors come for business, 11.5 percent for vacation, 36.1 percent for visiting friends or relatives, and 8.5 percent for special events.
"Visitors have a big impact on our special events," Watson-Watkins said. "When people come to Angelina County for a show at The Pines Theater or the Neches River Rendezvous or Lufkin's Bistro, it encourages us to make those events bigger and better the next year. And the bigger and better the event, the more visitors we can attract. It's a growth industry that helps us cultivate a stronger cultural community and more options for leisure and entertainment."
Local travel professionals cater to those visitors with old-fashioned hospitality and an abundance of family-friendly entertainment, Watson-Watkins said.
"We have business travelers and vacationers, but most of our visitors come here because they know someone here," Watson-Watkins said. "That's why we treat every visitor like family — because they are."
Local businesses that contribute to and benefit from the travel industry are invited to a National Travel and Tourism Week Rally Day reception at 10 a.m. Tuesday in the Community Room of the Angelina/Lufkin Chamber and Lufkin Convention and Visitors Bureau Offices, 1615 S. Chestnut St. Watson-Watkins said she encourages attendees to wear red to show support for tourism and its impact on the local economy.
National Travel and Tourism Week is an annual recognition established by a congressional resolution in 1983.
Steve Knight's email address is sknight@lufkindailynews.com.