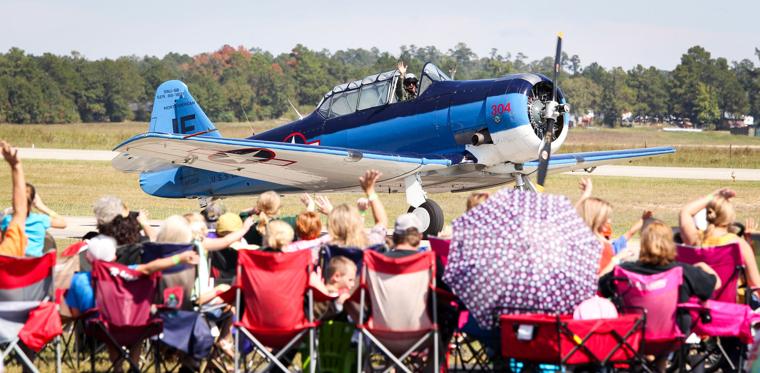 Organizers of the 2015 Angelina County AirFest said 10,000-12,000 spectators attended the event held Saturday to benefit the Toys for Tots campaign in Angelina and Trinity counties.
Randy Carswell, manager of the Angelina County Airport, said 6,000 wristbands were available for sale, and within two hours they were all sold.
"After we sold out of the wristbands, we were still selling admissions well into the afternoon," Carswell said.
The number of spectators far exceeded what the organizers predicted, according to AirFest producer Brian Crews.
"I do not think we could've asked for a better turnout," Crews said. "It was amazing. At this time, we honestly have no idea what the numbers are."
Crews said he was unsure as of Saturday afternoon how much money was raised for the Toys for Tots campaign.
"We will not know the hard numbers until later," Crews said.
"We have had one of our security guys making regular drops to the bank today, so number-wise we just do not know yet. We have knocked it out of the park — that is what we have done for Toys for Tots."
Carswell said the airport will consider hosting more AirFests in the future.
"We may try and make it an annual or biannual event," Carswell said. "Today, after everything wraps up, we will have a meeting and debrief to figure out how everything went. But that decision will have to go through the commissioner's court."
Angelina County Pct. 1 Commissioner Greg Harrison said the county benefits from an event like the AirFest.
"It is easy to see that this is a big crowd-pleaser," Harrison said. "I think for the kids and the families, with the kids being first, this is a positive thing. I have seen a lot of smiles today, and lots of hoots and hollering. I think we need this every year. If these folks are interested in doing this, I think the community ought to back them."
Kason Harris, 5, of Moscow, who attended the event with his father, Mason, his brother, Raylan, 1, and other family members, said he had fun at the AirFest.
Kason said his favorite plane was "the one that had rock 'n' roll on it. It's the big one."
Mason Harris said he had "a real nice time," and that he enjoyed looking at the vintage planes.
Braden Pate, 8, of Nacogdoches, who attended with his grandfather, Robert White, said his favorite part of the AirFest was all the "planes flying and doing tricks."
The Angelina County Sheriff's Office provided security during the air show and gave out water bottles to those who were working the event, according to Sheriff Greg Sanches.
"We had a very big crowd, and we have had no problems," Sanches said. "Everybody seems like they are enjoying the show. It is a beautiful day, and the weather was great for the airshow. Everybody that we have talked to seemed to really enjoy it, especially the kids. Everyone seems to be real happy with the show, so it seems we may be doing it a little more often in the future — hopefully."
Crews said he wanted to give appreciation to the sponsors and supporters of the AirFest for making the county's "first air show in 32 years such a success."
"If this is any indication of how the community supports something like this, we will definitely do this again next year," Crews said.
"When you look at the quality of the acts that we had, it is just amazing. We have the best in the country, right here in Lufkin today. These are all of the top-notch pilots from around the country."